Find Freedom from pain and feel great with massage and acupuncture treatments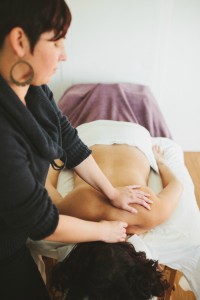 We are excited to announce a big change coming to Written on the Body Massage and Acupuncture Studio beginning October 1st, 2015!  Our experienced team of therapists have been honing their skills to create a menu of customized massage and acupuncture treatments in order to serve the needs of our client's more effectively.  Our goal as part of your health care team is to help you find optimal health with a balanced and pain free body as well as a stress free mind through massage, acupuncture and infrared sauna sessions designed for your specific needs at the time of your treatment.  We hope you will find a path to harmony in our new menu coming 10/1/2015!
Signature Therapy Menu
30 minute Focus! session:  $45    60 minute session:  $95  75 minute session:  $115   90 minute session:  $140
*inquire about additional time
Julie will address your stress and tension with a combination of hot stones, deep tissue and gentle stretching to help you work through injuries or chronic pain. The goal of each session is to meet your individual needs at any given time. Julie will tailor the hour based on your report for the day/week/month or year to ensure that you leave feeling relaxed and more pain free! All of Julie's sessions include a heated towel to ease tension held in the neck and head as well as focus work on the neck, head and face. *Julie recommends booking more time if you have more than one area of your body that needs extra attention or if you are just feeling like you need the extra time to relax. Julie offers 30 minute to 2 hour sessions *You must be added to Julie's client list in order to schedule with her due to a high volume of appointment requests.  If you would like to be added to the list or recommend a friend to her please email:  wotbmanager@gmail.com, text:  971 800 1171 or call: 503-473-8515 to do so.
Lise combines the soothing, relaxing long strokes of Swedish massage with a focus on shiatsu meridians, compressions, and passive stretching, to create the perfect blend of "East meets West" body work traditions. Each session will be directed by your individual needs as Lise will pay special attention to optimizing the flow of "chi" and removing blockages to ultimately assist your body's release of muscular tension. Also drawing from her background in Ayurveda, Lise will personalize the use of massage oil based on your intake information. Resulting in an experience which will you feeling more relaxed and whole. * Each session includes a hot towel and hot stones.  Lise offers 60 and 75 minute sessions only
Katie's session focuses on pain relief for the upper body. Tension in your neck, back, shoulders and arms will first be melted away with hot stones. She will then ease into deeper knots & areas of pain with deep tissue techniques. This session is wonderful for those suffering from repetitive stress injuries or chronic pain issues. *For individuals with specific low back issues, we recommend this longer session which also includes 30 minutes of hip work.
Rich's signature therapy combines acupuncture and massage into a single session.This service is ideal for someone who's in pain or recovering from an injury.Our goal will be to disengage trigger-points, loosen the myo-fascial, reduce inflammation, break up adhesion's/scar tissue, strengthen muscles, increase flexibility, and increase range of motion. We'll also have time to discuss self-care, diet and supplemental regimens.
Bethany blends the healing benefits of aromatherapy, structural integration, stretching, and reflexology creating a massage session that eases tension in muscle tissue, while calming the mind and bringing the body back into balance. Her work tends to draw clients focused on work in their upper body, hips and feet.
*Bethany also offers her signature facial rejuvenation massage as an add on option to your session:  $40 for 30 minutes
Terry combines acupuncture with a form of traditional Chinese Massage called Tuina to create a personalized treatment for your individual needs.  Her goal is to help you work through physical and energetic blocks in order to find optimal health and balance.
*Terry also offers an active lifestyle session for those of you on the go:  30 minutes of Tuina combined with cupping or gua sha for $45
Enjoy an hour of healing and detoxification in our 1-2 person indoor far infrared sauna
$20 for 60 minutes   $15 to add 30 minutes to a massage or acupuncture session *Please email:  wonthebody@gmail.com,
text:  971 800 1171 or call: 503-473-8515 to
to schedule sauna appointments
Improves circulation

Deep penetrating heat

decreases pain in joints and muscles

purifies the skin and so much more!

We do not have a shower but we do provide a cool cleansing towel at the end of your visit
What does this mean for our current clients?
We understand that our signature therapies are a jump in price and that not everyone who has supported us over the past 5+years will be able to afford or be interested in this price jump.  We truly appreciate your business and want to continue as part of your health care team so we have options for you!  We will continue to offer our regular service menu in the form of memberships and packages but you will no longer be able to purchase them in gift certificate form or as a single service option unless you have a package or membership after October 1st, 2015.  We will however offer our regular treatments for you to purchase as gifts during the holidays (they are valid for one year so this could be a great way to stock up!).  To make this transition easier we are offering $20 off packages or $20 off the first month of your membership and you will be added to our weekly happy hour discounted offerings if you sign up by October 1st, 2015.  Click here to go to our online store and use promo code:  iamimportant to get the deal.  If you are buying them as gifts and need the expiration date extended please send us an email and we will take care of the transaction for you.
Find freedom from pain with regular massage and acupuncture! With our membership you get one massage per month and weekly discounted offerings.
Memberships
Find your peace massage: $60 monthly
Deep tissue: $80 monthly
Hot stone: $70 monthly
Customized Massage or Acupuncture Sessions: $85 monthly
Packages
Buy a few at one time and save! Packages expire one year after the purchase date and can be shared with friends and family.
60 minute Peace 4 pack: $228
60 minute Deep 4 pack: $308
60 minute Hot Stone 4 pack: $268
60 minute Customized Massage or Acupuncture 4 pack: $328
Infrared sauna packages:  5 pack-$75  or 10 pack-$150
Insurance coverage for Massage and Acupuncture
Written on the Body can bill most insurance companies directly including auto accident or workers compensation coverage.  Please email:  wotbmanager@gmail.com, text:  971 800 1171 or call: 503-473-8515 to see if we can accept your particular insurance plan prior to booking an appointment.
As always please feel free email me with questions, concerns, feedback or comments at wotbmanager@gmail.com!  Thanks so much for your continued support and have a great day!