Cupping seems to be all the rage with athletes right now and for good reason, it works!  I have heard a lot of varying opinions since I first tried out cupping myself, some folks believe it's a hoax and the benefit is just a placebo effect, others seem confused about it all together, some think it will be painful and others agree that it is absolutely fabulous.  In this post I hope to give you a clear and simple explanation of cupping so that you can go boldly forward to try it out for yourself!
Here we go….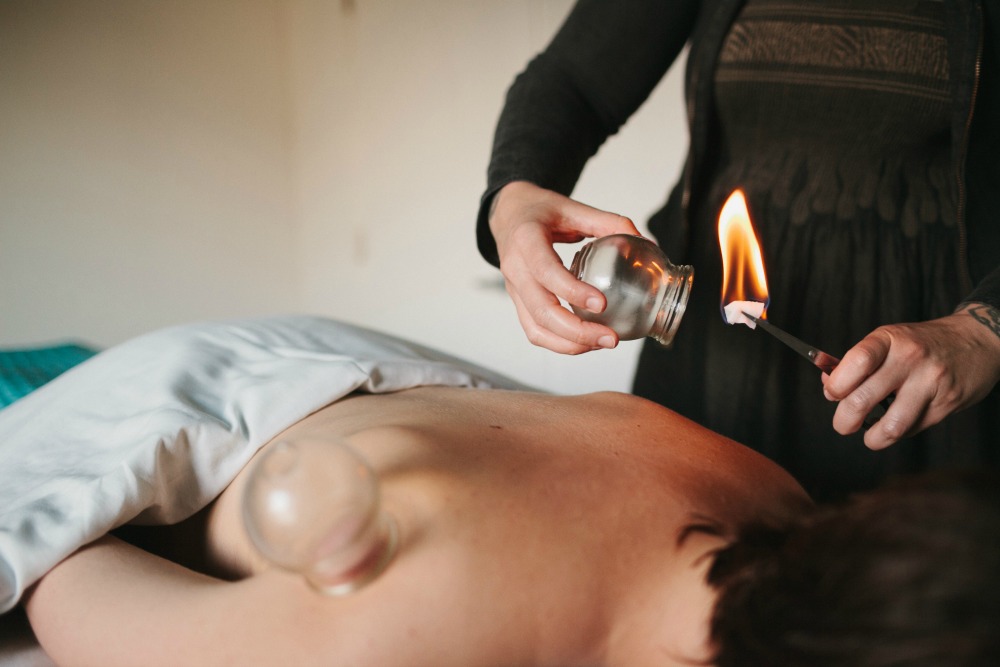 noun
noun: cupping
(in Chinese medicine) a therapy in which heated glass cups are applied to the skin along the meridians of the body, creating suction as a way of stimulating the flow of energy.
To add on to the dictionary definition cupping is used to stimulate blood flow, bring fresh blood to the area and increase healing. This means it is good for physical issues including injuries, muscle tension, pain, restricted movement and so much more!
Who can provide cupping treatments?
If you have a complimentary health care provider that you currently see my advice would be to check with them first for a recommendation.  If not you can visit us at Written on the Body!  Both Theresa and Richard offer cupping treatments in addition to Acupuncture to our clients.  Or you can seek out an acupuncturist, massage therapist or naturopathic physician who is trained in cupping.
What happens during a cupping treatment?
After a thorough intake with your practitioner they will have you disrobe the affected area.  Some practitioners might use a tiny amount of oil to prepare your skin for the cupping procedure.  There are different types of cupping, some use glass cups and fire to create suction and others use plastic cups that have tiny built in pumps to draw the air out.  Whichever type of cups used you will feel the flesh being sucked up into the cups, typically this is not painful but depending on your specific issue it can become a little more intense.  If it is too uncomfortable you can always let your practitioner know so that they can release some of the suction.  Some therapists will let the cups sit for a time (seconds to a few minutes) and others will move the cups around similar to a massaging motion.
What happens after a cupping treatment?
After your practitioner removes the cups you may feel some tenderness in the area but it typically fades within 24 hours, you may also feel more tired than usual as your body works hard to heal itself.  You will most likely have deep red or purple marks where the cups have been placed but they do not feel painful.  These marks are caused by stagnant blood and toxins coming to the surface and will fade within a week or so.  You will probably feel better!  You might notice more freedom and less pain in the areas that have been cupped.  If you get regular treatments and have a good self care routine you may even make a full recovery from injuries or other chronic issues.
Cupping in the news:
The Portland Trail Blazers added cupping into their injury prevention and recovery routines:
Floyd Mayweather recently got cupping:
Cupping is an ancient healing practice and this blog post is just a short adventure into what it is all about.  To really understand it you will need to experience it and learn about the philosophies surrounding traditional Chinese medicine.
Have more questions?  Leave them in the comments or email us at wonthebody@gmail.com.  Thanks for reading and we look forward to working with you soon!  Book online today.