Just sayin….
            Making the commitment to eat healthy and get massage regularly might just make your life great:)  Who can argue with that?
We just updated our menu to make it easier for our clients to get the most out of their massage and acupuncture treatments by highlighting the unique training and skills of each therapist versus the generic deep tissue or relaxation massage.  The truth is that each of us come with our own set of issues that need a combination of techniques and focused attention in order to be resolved.  We wanted to give our therapists the freedom to help shape each clients experience without the confines of upgrades and appointment types.  So now here we are offering personalized sessions where your appointment is defined by the therapist you have chosen and their specific talents as well as the many facets of you:  your stress levels, pain levels, needs, desires and more at each session.
To book with us please:
go to our website and read about each therapists offerings and skill set
Choose the "book" link
Choose the therapist and  length of the personalized session you would like to book ie.  if you want to focus on one area of the body or you would just like an all over relaxation massage an hour might work great but if you need to address a couple of area's you might want to choose a 75 or 90 minute session
Choose the day and time for your session and you are all set!
Need help? Have questions? Text us at   email us at  or give us a call at 503-473-8515 and we will be happy to help! Interested in more regular treatments or prefer a more standardized massage type?  Go to our packages page to find out about memberships and packages.  Want to learn more about how often you should get a massage?  Read our blog post on that very topic:)  No matter what we are pretty certain that choosing to eat healthy and get massage will improve your overall quality of life and that is why we are continuing with our fall series on healthy recipes for "the dark time" of fall and winter.  Enjoy!
in the mean time Eat healthy with this Caribbean style stew pigeon pea recipe!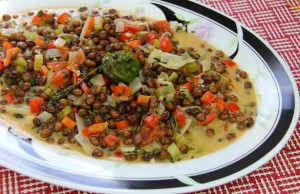 *originally posted on the amazing website for all things Caribbean please visit this site to see amazing pics of this dish:   http://caribbeanpot.com 
Ingredients:
1 Can Pigeon peas (I used 2 cans, you can find these near the Hispanic foods section in any grocery store)
2 scallions
1 tablespoon olive oil (I used 2 tablespoons of coconut oil)
1 med tomato (chopped)
1 cup diced bell pepper (I used 2 red bell peppers)
1 scotch bonnet pepper (keep whole) (Habanero pepper is a great substitute, I like a lot of spice so I broke mine open half way through cooking)
1 med onion diced
2 cloves garlic
3 sprigs thyme (I like a lot of flavor so I used about 8 sprigs of dried thyme)
1/2 teaspoon Worcestershire sauce
1 tablespoon parsley (I substituted cilantro because that is what I had on hand)
1/2 cup diced celery
1/4 teaspoon black pepper
1/4 teaspoon salt
3/4 cup coconut milk (You can use low fat here if you prefer, I used one whole can of full fat coconut milk)
1/2 cup water
optional – grated ginger – diced carrots, pumpkin, sweet potato
I made this with brown rice, jerk tofu and roasted sweet potatoes
The process
In a large shallow pan or wok heat the oil add the celery, garlic, tomato, parsley, thyme, onion, black pepper and scallions. Turn the heat down to low and let it gently cook for about 3-5 mins.
Drain and rinse the peas and add them to the pan, turn the heat back up to medium
Add the rest of the ingredients and bring it up to a boil. Then reduce to a simmer (remember to add the scotch bonnet whole and try to NOT break it open) and let it cook for about 15 minutes.  Add salt and pepper to taste.  I did let mine simmer for a while because I was cooking other things but you can let yours cook to desired consistency. 
Serve with rice, tofu and/or sweet potatoes and enjoy!
I am having so much fun sharing my favorite recipes with you and it is defintinitley helping me stay on track:)  Thanks so much for reading and as my good friend from Dominica used to say "Good times always!".