I get a lot of great questions from my clients about what their particular treatment plan should look like.  It is a wonderful part of the job that I get to sit with an individual, look at their life, stresses, pains and goals and help them create a plan that will improve their overall well-being.One of the questions I get all the time is: "How often should I get a massage and what type of massage should I choose?"  The answer is very individualized but I do have some general guidelines that I work with when helping a client choose a treatment plan that will work best for them.
How often should I get massage?
There are many factors that can effect how often you should get a massage.  The best way to decide is to have a discussion with your massage therapist. They will be able to give you recommendations based on your lifestyle, injuries and health care goals.  The way you incorporate massage into your wellness plan is a personal choice and in the end you know what is best for you!
1 massage per week or more depending on your injury and other types of therapies you have included in your health care plan if you are recovering from a recent injury.

2 massages per month or more depending on how much lasting relief you get from each massage if you have a chronic issue that is causing you pain.

1 massage per month or more depending on your situation for maintenance and injury prevention.
It is always important to remember that it may have been years of bad posture, habits or other repetitive actions that have lead to your current issue which means it most likely won't be a simple fix.  Regular body work and self care is essential for creating lasting change in your health!
What type of massage should I receive

The answer to this question also has many variables and is very dependent on each individuals needs.  It is always good to discuss your desired goals with your therapist and to revisit them each time you have a massage appointment.  Here is a short description of two common types of massage that you might choose from:
Swedish/Relaxation massage – This is the most common type and uses five styles of long, flowing strokes to reduce stress and pain in the body.  Swedish massage is great for nearly everything, including  stress and pain relief, injury recovery, prevention and so much more!

Deep Tissue massage – Deep tissue massage is a focus on the deeper layers of muscle as well as the connective tissue and is typically slow, deliberate and focused work.  Deep tissue massage can be great for treating injuries, chronic pain, range of motion restrictions and many other issues.
A common myth about deep tissue massage is that it must be painful in order to be effective.  Deep tissue massage may be slightly painful on occasion as your therapist works through adhesion and resistant tissue but this is not always the case.  In fact working too deeply too quickly and causing excessive pain can do way more damage than good by causing stress and trauma to your already tight muscles and fascia. You may even choose to begin your treatment plan with Swedish massage until the superficial tissue has relaxed enough to have effective results from deep tissue work. Keep in mind that your massage therapist is always trying to work with your body to promote healing.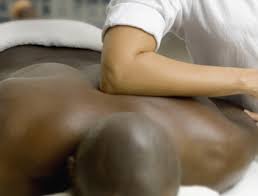 How long should my massage be?

You can typically choose from 30/60/90 minutes of massage (and often more).
A 30 minute focus massage might be great for you if you have one specific area that you are focusing on such as low back, neck, foot or wrist.  You might consider several weeks of short sessions on one particular area to reach a desired goal.

A 60 minute session is great for; full body relaxation, some focus work on a particular area combined with some relaxation work, or it can also be great for a combination of focus work on two different areas of the body.

90 minute massage treatments are wonderful for; extended relaxation work, focus on one area of the body combined with full body relaxation, or focus work on more than one area combined with light relaxation work.  The combinations are endless!  Just keep in mind that you should book enough time in your treatment to accomplish small goals (ie. you have slightly more range of motion in your bound up shoulder) and work toward your greater goal (ie. you have full range of motion in your shoulder).
Have more questions about massage?  Add them to the comments and we will do our best to cover them in our weekly blog posts! Thank you for reading and have a great week.