Infrared Sauna Portland, OR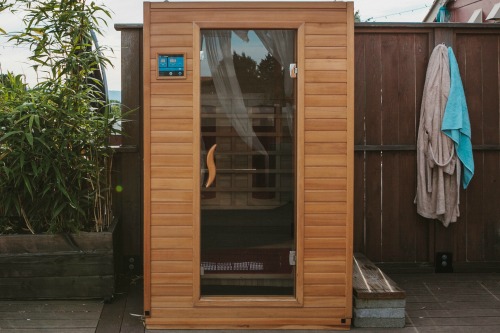 Written on the Body is now offering 30 or 60 minute Infrared Sauna sessions!  Here are the in's and outs of using our infrared sauna:
What is an infrared sauna?
Far Infrared sauna: An infrared sauna uses infrared heaters to emit infrared light experienced as radiant heat which is absorbed by the surface of the skin. Traditional saunas heat the body primary by conduction and convection from the heated air and by radiation of the heated surfaces in the sauna room (Wikipedia).  An infrared sauna detoxifies, improves circulation, promotes healing and so much more!
Here is a great article on infrared sauna benefits from the wellness hour: click here to read
learn what the Mayo clinic has to about infrared sauna sessions here
Appointments in the infrared sauna at Written on the Body:
Our 1-2 person infrared sauna has been relocated to our larger treatment room which means you can book a sauna appointment along with a massage or acupuncture session and it can all take place in one treatment room!
What is included-
It is optional to bring a swim suit , slippers or flip flops and your favorite tunes or reading material. We provide a cool cloth to towel off with after the sauna session, handmade natural body products, towels to sit on, sweat towels and a speaker with an auxiliary plug.  You may bring someone to sauna with you for an extra $5.  Please make a note when booking the appointment that you are bringing a guest.  2 people max. *We do not offer a shower at this time
Session pricing-We offer 10 minutes free which can be added to any treatment but it must be booked in advance via email or phone.  Please contact us if you want to take advantage of this offer (availability is limited)
A 60 minute sauna session for one person is $25
Add a 30 minute sauna session to any massage or acupuncture appointment for only $20
Buy a 5 pack of sauna sessions for only $90 or a 10 pack for $150!
Sauna Schedule-other times may be available by appointment please call 503.473.8515 or email wonthebody@gmail.com with specific inquiries
Mondays:  10:30-2:30pm for all appointment types (stand alone 30/60 minute sessions and add-on 30 minute sessions)  2:30-9pm for add-on sessions with Julie
Tuesdays:  10:30-2:30pm for all appointment types including add-on sessions with Lise
Wednesdays:  10:30-2:30 for all appointment types
Thursday:  11-5 for all appointment types and 8:30am-3pm add-on sessions with Julie
Friday:  11am-2pm add-on sessions with Lise
Sunday:  1-3  for all appointment types and 3-9 for add-on sessions with Julie