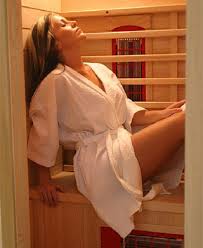 Infrared Sauna
Far Infrared sauna: An infrared sauna uses infrared heaters to emit infrared light experienced as radiant heat which is absorbed by the surface of the skin. Traditional saunas heat the body primary by conduction and convection from the heated air and by radiation of the heated surfaces in the sauna room (Wikipedia).  An infrared sauna detoxifies, improves circulation, promotes healing and so much more!
Here is a great article on infrared sauna benefits from the wellness hour: click here to read
learn what the Mayo clinic has to about infrared sauna sessions here
Appointments available beginning Mother's day (Sunday May 11th)!
$25 per half hour for 1-2 people- $20 when added to a massage or acupuncture appointment
5 pack for $100 and 10 pack for $200
Mom's-take 50% during the month of May *promo code "mom"!
Mom admirer's take 20% off during the month of May *promo code !
Click here to book
*times are limited but we can accommodate some requests, please email or call if you would like to book a sauna session outside of the online hours or in conjunction with a massage or acupuncture appointment.