Summer is my favorite time of year and I am always on the lookout for new additions to my list of Portland's best summer spot's to cool off, sun bathe, relax or just have some fun!  After the extreme heat of yesterday I thought I would share my top 3 with you in hopes that you might be able to take advantage of this great city and maybe even share a few of your ideas with me!
I am a regular at the Ira Keller fountain located downtown Portland on SW 3rd and Clay.  I have taken every age range of child and adult along for fun in the sun days and we have never been disappointed.  The water is cold, there is plenty of shade and a level of pool or waterfall for the most squeamish to the very adventurous.
Tips:  there is a public restroom directly across the street on the side of the parking garage (I believe it's on Clay).  Bring a good supply of water and snacks, you will probably stay a while.  It is better to go to this fountain between 11-4 if you like lots of sun, it gets more shade as the day gets later.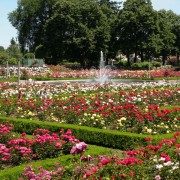 How much fun is there to have at Peninsula Park in the summer?  Let me count the ways:
Rose Garden-A beautiful sea of roses set in a lovely hedged labyrinth with small shaded areas and large fountain in the middle which is a local favorite for cooling off.  I love dangling my feet in the fountain and watching the kids play on a hot summer day.

Play ground-I am not exaggerating when I say that the playground at Peninsula is awesome and it houses a mini sprinkler park for young and old alike to play silly and shake the summer heat.

Outdoor swimming pool-Literally one of my favorite parts of Portland Summer's!  Lounge pool side for a tan, swim laps, bring the kids for a day of swimming fun or just float on your back while breathing in the fresh scent of roses from the nearby garden.  Truly I have experienced nothing like it!

Peninsula park boasts many other attractions that you should venture out and discover-report back on your park favorites so the rest of us can join!
Tips:  Bring a picnic!  Get to the pool early especially if it is hot out-it fills up quick.  Take your time and relax:)
Tire Swing on Mississippi Avenue
Surprisingly I don't have any good photograph's of this hidden gem on the hillside at the corner of Fremont and Mississippi Ave.  You will have to take my word for it that it is impossible not to have fun at the tire swing.  I can't honestly say if it is suppose to be open to the public but I can attest to the fact that I have spent many hours there with both kids and adults swinging, laughing and playing our cares away and I have never had an issue.  The view of downtown is stunning and you also get some great people watching from the hustle and bustle of Mississippi Ave.
Tip:  on your way out take the stroll up Mississippi and check out comics, ice cream, light bulbs, exotic fish and so much more!
I know I said 3 but I would be remiss if I didn't mention my own creation:  The Written on the Body Rooftop deck!  Looking for a little RnR?  Need to be transported to a far away peaceful place?  Look no further!  Read more here.
Whatever way you choose to spend it I hope you have an awesome summer and please do share your favorite Portland Summer Spot's with me!  I am always looking for new adventures:)  Happy sunning to you!