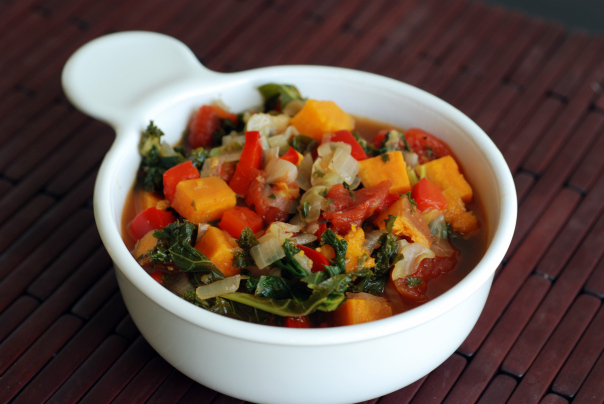 Eating healthy through the colder months:
Healthy recipes for fall
I am going to tell the truth….
I have no problem at all getting plenty of water, exercise and sticking to a healthy diet in the summer.  I am a true sun lover and I love being outside when it is hot which means I walk everywhere, eat farm fresh veggies with every meal and in general live more lean and green.  But fall happens and as soon as the weather changes I get tired and hungry!  I start to crave pot pies, corn bread, cheesy casseroles and a myriad of other comfort foods from my child hood.  I avoid the outdoors and sleep a whole lot more.  I have lived in Portland for too many years now to claim that I am new or to wait for the acclimation to happen.  This year I am taking the challenge of finding out how to balance the long winter months with the easy lifestyle of Portland summers.  I thought some of you Portland transplants and maybe even a few native PDXers would be able to relate and might like to join me in the quest to eat healthy through what I like to call "the dark time" aka.  PDX fall, winter and spring.
I recently found one of my favorite cookbooks at Goodwill "Moosewood Restaurant Low-Fat Favorites"  I have never made a single dish that has turned out less than delicious from the Moosewood cook books so if you are in the market I highly recommend checking them out!
Here are two of my favorite recipes from the book:

Serves: 6 to 8
Total Time: 45 minutes
Ingredients:
2 cups chopped onions
2 garlic cloves, pressed or minced
1 cup minced celery
2 red, yellow, and/or green bell peppers, chopped
1/2 cup water
2 cups canned tomatoes or tomato fillets (18-ounce can, undrained)
1/4 cup chopped fresh cilantro
1/2 teaspoon dried thyme
1/2 teaspoon ground fennel
1 teaspoon ground coriander
5 cups cooked black beans (4 15-ounce cans, drained)
salt to taste
1 1/2 pounds collard greens or kale
1 cup water
4 oranges
2 tablespoon soy sauce
toasted cassava meal (optional)
Procedure
Place the onions, garlic, celery bell peppers, and water in a large saucepan. Drain the juice from the tomatoes into the pan, squeeze the juice from each tomato into the pan and then chop the tomatoes and set them aside. Place the pan on high heat and boil the vegetables, stirring often, for about 15 minutes, until the onions are translucent. Lower the heat and sitr in the cilantro, thyme, fennel, and coriander. Add the black beans and chopped tomatoes, cover and simmer on low heat for about 15 to 20 minutes. Add salt to taste.
While the black beans simmer, remove and discard the collard or kale stems and rinse the leaves well. Stack the leaves and slice them crosswise into 1/4-inch strips. In a saucepan, bring the greens and water to a boil. cover and simmer, stirring frequently as the greens wilt, for about 15 minutes, until the greens are tender.
Meanwhile, peel and section the oranges and set aside. When the black beans and the rice are ready, drain the greens and toss with the soy sauce. Serve the feijoada on a large platter as described above or on individual plates. Pass the toasted cassava meal at the table, if desired.
* I enjoy serving it with the Brazilian Rice dish from the same book.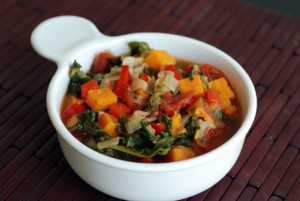 Caribbean Stew
1 large onion, chopped (about 2 cups)
½ tsp salt
2 tsp vegetable oil
½ tsp dried thyme
½ tsp ground allspice
1 minced fresh chile, seeds removed for a milder "hot"
1 large sweet potato, cut into medium chunks (about 2 cups)
2 cups water or vegetable stock
2 small zucchini, cut into 1" chunks (abut 2 cups)
1 ½ cups undrained canned tomatoes, coarsely chopped
4 cups loosely packed shredded kale
1 tbls fresh lemon or lime juice
2 to 5 tbls finely chopped fresh cilantro
salt to taste
Procedure
Sprinkle the onions with the salt.
In a covered soup pot, saute` the onions in the oil for about 7 minutes, stirring occasionally.
Add the thyme, allspice and chile and continue to cook for another 1 or 2 minutes.
Stir in the sweet potatoes and the water or stock and simmer, covered, for about 5 minutes
Add the zucchini and the tomatoes (with their juice) and simmer 10 to 15 minutes more, until
all of the vegetables are barely tender.
Add the kale and cook another 5 to 10 minutes.
Stir in the lemon or lime juice, cilantro and salt to taste.
* I like to serve this one with brown rice and either jerk chicken or jerk tofu
I would love to hear your favorite fall/winter recipes!  I absolutely love to cook and I am always on the prowl for more ideas on how to eat healthy through "the dark time".  Check back every week for more tips and tricks on eating and staying healthy this winter.   Thanks so much for reading and I hope you enjoy:)