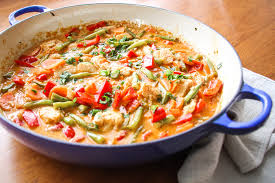 Delicious and healthy recipes for fall
I made so many good things this week that it is difficult to make a decision on what to share today!  Even though Summer is my favorite season I have decided that this time of year isn't so bad, mostly because the sun still shines even though there is just a bit of chill in the air.  Food wise you can still get away with salads as a main dish and there are plenty of fresh local veggies piled up in the produce section. I have still been obsessing over my Moosewood Restaurant Low-Fat Favorites Cook book.  Go buy it, seriously, it is So good…
Without further ado this weeks faves are:

Spanish Potato Garlic Soup
This soup just feels good to eat and it tastes so beautiful in your mouth!  I am an extreme flavor person so I like to double the herbs and spices in nearly every recipe and I definitely adjusted them in this recipe (though I left them the same below so that you can make your own choices about that).  I paired it with a simple salad of arugula, sweet pepper slices and almonds with a roasted pepper salad dressing.  According to Moosewood this soup is best enjoyed with classical guitar music and deep discussions of passion and death:)
Garlic Broth
20 cloves of garlic peeled
1/4 cup miso
3 cups water
3 cups vegetable or chicken stock
Roast garlic in the oven at 400 degrees on an unoiled pan for 15-20 minutes until golden.  Blend roasted garlic cloves in a blender or food processor with miso and a bit of water until smooth.  Combine garlic puree with all other ingredients listed above and gently warm until hot.
Spanish Garlic Potato Soup
1 large onion thinly sliced
2 large potatoes cut into thin slices
1 teaspoon of paprika
2 teaspoons of olive oil
1 cup chopped tomatoes
1 teaspoon dried thyme
garlic broth (above)
Saute the onions, potatoes and paprika in oil for 5 minutes, stirring constantly.  Add the tomatoes and thyme and simmer for 4 minutes.  add the garlic broth and simmer gently for 10 minutes or until potatoes are tender.
Thai Vegetable Curry
I am not great at cooking Thai food typically, I don't know why, but it is always a struggle for me to get the textures and flavors right.  This recipe turned out perfectly!  This is my adaptation of Moosewood's recipe, it has quite a few changes but really the recipe really is great the way it is written *buy the book to find out!  I just adapted to my preferences and what I had on hand.  I served this with brown rice and it tasted marvelous-even better the next day!
1 cup chopped onions
1 tablespoon coconut oil
2 cups chopped broccoli florets
2 cups diced sweet potato
1 small jar of red curry paste (about 6 tablespoons)
1 and a 1/2 cups pineapple juice
1 can coconut milk
1/2 cup water
1/2 teaspoon salt
2 cups cut green beans
1 cup chopped red bell peppers
1 tomato diced
3 tablespoons lime juice
4 tablespoons fresh basil chopped
Optional habanero hot sauce or hot peppers
In a soup pot saute the onions, covered, for about 5 minutes.  Stir in the sweet potato, hot peppers (if using them) and curry paste and saute for 1 minute.  Add the pineapple juice, coconut milk, water and salt, bring to a boil and then simmer for 5 minutes.  Add broccoli and green beans and cook for another 5 minutes.  Sir in the peppers, tomatoes, lime juice and basil and simmer until veggies are tender.
YUM!
I really hope you are enjoying this healthy food series.  Please share your favorite recipes and cookbooks with me!  I am always looking for ideas:)
Have a great week and stay healthy!